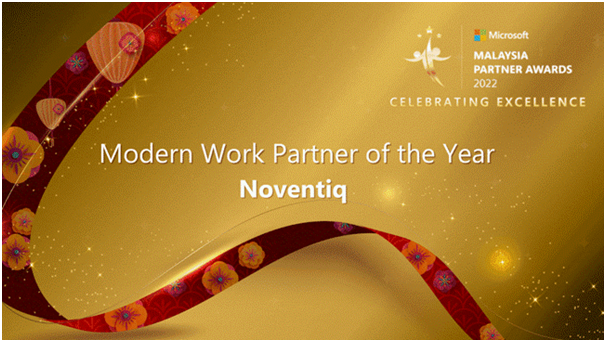 Noventiq Malaysia Clinches Microsoft 2022 Modern Work Partner of the Year Award!
Noventiq Malaysia named Microsoft's 2022 Modern Work Partner of the Year.
The company has been awarded the prestigious title of Microsoft's 2022 Modern Work Partner of the Year, in recognition of Noventiq team's efforts in supporting customers as a strategic Microsoft partner.
The Modern Work Partner of the Year Award is given to a partner which has demonstrated substantial and sustainable growth by helping customers transform their digital workplace and achieve their digital transformation goals through the implementation and adoption of Microsoft 365. Noventiq was selected for this award based on their entrepreneurial spirit, sales excellence, and contributions towards Microsoft Malaysia's business in FY22.
This award highlights Noventiq's commitment to delivering innovative solutions that empower customers to leverage the full potential of Microsoft's modern workplace technology.
| | |
| --- | --- |
| | |
| From L to R: Sara Lua, Microsoft MY Global Partner Solutions Lead, K Raman Managing Director of Microsoft MY, Jeremy Lim, Rajakumar Manickam, Yeewee Low, Vasily Kosmynin of Noventiq, Andrea Della Mattea President, Microsoft Asia Pacific | From L to R: Jeremy Lim and Rajakumar Manickam of Noventiq, K Raman Managing Director of Microsoft MY, Yeewee Low, Vasily Kosmynin of Noventiq |
"This award is a big win for the Malaysian team, who has worked tirelessly to support our customers' projects and digital transformation initiatives. The award is a strong recognition for the team's arduous work, and a strong testament to our motto of Global Expertise and Local Outcomes," said Ilya Anzhiganov, Vice President of Noventiq APAC.
In today's rapidly evolving world, having a suitable workplace is crucial for fostering creativity and retaining employees. At Noventiq, there is a team of experienced specialists and a full suite of solutions and services to help transform your workplace.
Noventiq's portfolio includes multi-cloud services, future workplace solutions, modern hybrid infrastructure, digital transformation (DX), and cybersecurity services, software provisioning and consultancy, and software and application engendering and development. With these offerings, Noventiq helps businesses of all sizes stay competitive and adapt to changing market trends.
As one of Microsoft's most significant partners in growing economies, Noventiq is committed to delivering outstanding value to its 75,000 customers. The company is devoted to continue to invest in strengthening its partnerships with industry-leading technology providers to deliver the latest innovations and best practices to its clients.
Noventiq Malaysia also won the Microsoft Partner of the Year Award of Malaysia in 2021. This recognition is a testament to its team's hard work, dedication, and expertise in delivering exceptional solutions and services to its customers.